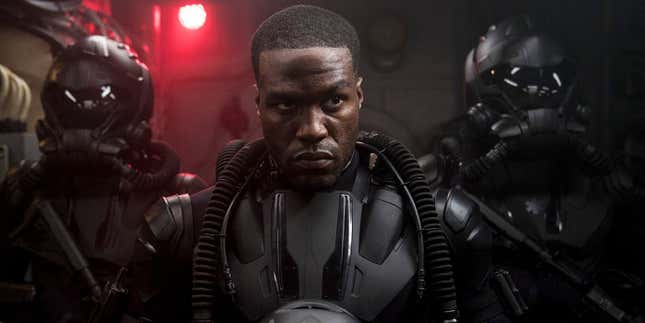 Earlier in the week, Warner Bros. the first trailer of Aquaman and the Lost Kingdom. When director James Wan talking to the press, he mentioned that Yahya Abdul-Mateen II Black Manta will serve as the film's big bad after being more of a henchman to Ocean Master (Patrick Wilson) in the original film. And part of Manta's story in the film will involve material from a movie he originally intended to headline.
Spoilers for the Week of March 7-11
You may remember a few years ago that Warner Bros. and announced a Aquaman called a spinoff The Trench, based on the sinister looking underwater monsters during the third act of the first movie. It seems like an odd gamble, since it didn't star anyone from the first movie, but after said spinoff was canceled along with by Ava DuVernay New GodsWan revealed Trench a smokescreen for what is really a Just a Black Manta movie. Wan explained that at the time, they didn't reveal that a movie was being made for one of the biggest haters in the DC Comics pantheon to surprise the audience. But since it's no longer a thing, Lost Kingdom there is something planned for that movie.
"The Trench movie, it's going to be a secret Black Manta movie," he said. "When that didn't happen, some of those ideas found their way. […] We came up with a lot of interesting ideas and really cool stuff that I felt we could use on it. At least one of the ideas is given proper attention in the trailer: Manta is seen using the Black Trident, an Atlantean weapon that gives him a real edge against Aquaman this time. Maybe the planned movie sees him looking for the Trident, or literally anything worth upgrading, and then we see the fruits of his labors. Lost Kingdom right
Although the Black Manta The movie is dead in the water, Wan still hopes to create a standalone universe for Aquaman movies. (The ACU I think?) He is RECOGNIZED that Jason Momoa's Arthur Curry has "a lot of places to go," and that Lost Kingdom will give a third installment. And for him, the fun was exploring the different parts of Atlantis and the Seven Kingdoms, which he felt strongly existed as their own thing separate from ever-changing DC universe. "My dream is to create a Seven Kingdoms cinematic universe and visit all the different worlds that we touched on in these two films," Wan admitted. "We get to enjoy all these different worlds that other superhero movies don't."
Aquaman and the Lost Kingdom will hit theaters on December 20.
[via IGN]
---
Want more io9 news? Check when to expect the latest wonders, Star Warsand Star Trek releases, what's next for DC Universe in film and TVand everything you need to know about the future of Who is the doctor?.