Jun Du, co-founder of Huobi, has purchased 10 million CRV from Curve's founder Michael Egorov for $4 million. This significant transaction was initially heralded on Twitter by Du himself and later confirmed by on-chain analytics.

The acquired CRV tokens were immediately locked as veCRV, providing Du with voting rights on the Curve platform for a year, confirmed by The Block.
Du has been vocal about his support for Curve, comparing his backing to his previous support during BendDAO's liquidity crisis. He has expressed confidence in the platform's future, tweeting that "the current difficulties are only temporary, and the industry will be healthier if we support it together."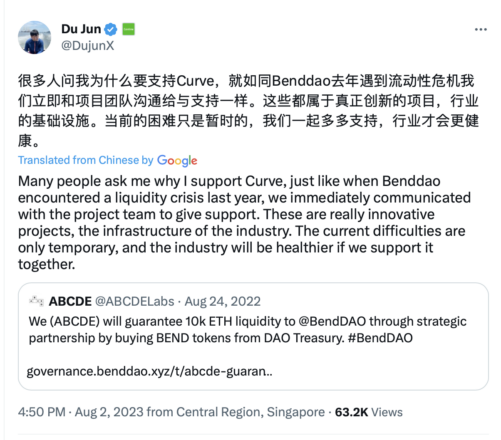 Plus, Egorov has around $100 million in loans across various protocols, adding up to 47% of CRV supply in circulation. He borrowed $56 million of stablecoins, using $149 million of CRV as collateral on Aave, for example. These loans were reportedly used to buy assets such as properties:
"These position sizes that are at risk of liquidation are in the 8 figure range. Thus, the $CRV price could potentially tank to extreme lows, causing knock-on effects over a large part of the DeFi ecosystem."
Curve suffered a Vyper programming language exploit on July 30, leading to a near collapse of the protocol due to a drain in CRV liquidity pools.
Du's transaction helps improve Michael Egorov's risk of total CRV liquidation on his substantial borrowings across various decentralized finance lending platforms, and has been raising more funds to prevent a total collapse or black swan event, as some have predicted.
Ergorov then staked 300M CRV as collateral in other lending protocols like Aave and borrowed 60M USDT. This approach was chosen instead of market dumping, as selling 60M worth of CRV in the open market would cause the price to crash.
17/ Update: Egorov seems to have raised more than $15M in stablecoins through $CRV OTC sales.

The arrangement is a handshake agreement for a three to six-month lockup on the tokens, that can also be sold at $0.80 if the price rises that high. (via @TheBlock__) pic.twitter.com/kRDREsswoV

— Delphi Digital (@Delphi_Digital) August 1, 2023
Egorov has already parted with 55 million CRV in transactions with Justin Sun of Tron, crypto trader known as DCFGod and Andrew Kang from Mechanism Capital.
The Curve OTC War updates:

17.5M CRV to 0xf51
5M CRV to Justin Sun
4.25M CRV to DCFGod
2.5M CRV to Ox4d3
2.5M CRV to DWF Labs
2.5M CRV to Cream: Multisig
1.25M CRV to 0xcb5
3.75M CRV to machibigbrother.eth
250k CRV to 0x9bf

— Sandra (@sandraaleow) August 1, 2023
Meanwhile, a proposal within the Aave governance community by the Aave Chan Initiative, suggesting the purchase of CRV worth up to $2 million. If accepted, these tokens could be secured as veCRV for a duration that may span up to four years.